AUREA is one of the oldest companies on the Paris stock exchange, it has been listed since the 19th century. The name was changed in 1988 from AUER to AUREA.
On July 22nd 2003, FINANCIERE 97, controlled by Mr Joël PICARD, launched a take-over of AUREA, with the stated objective to form a group dedicated to sustainable development and notably regenerating and recycling of raw materials.
On August 27th 2004, AUREA acquired all the shares in COMPAGNIE FRANCAISE ECO HUILE, specialised in regenerating used motor oils, against newly emitted shares in AUREA. This acquisition was the starting point for the new AUREA group that subsequently grew through additional acquisitions. Below is the current legal organisation chart.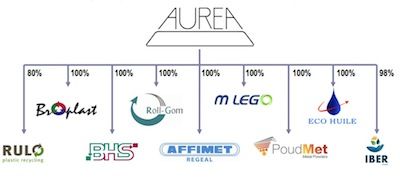 Our vision is to create a dynamic group by aggregating together small and medium sized companies that are leaders in their respective areas of activity, and to participate actively in safeguarding the planet.
Our strategy is to create a specialized group in sustainable development, especially in recycling and regeneration of raw materials, by federating individual companies and developing new recycling processes. 
Recycling and sustainable development covers an increasing number of products and materials, such as oils, electronics, automobile, a large variety of plastics, demolished buildings, tyres and metals.
Many small companies have developed in this area, developing new techniques and processes. Individually they represent a limited interest for larger industrial groups, that's why AUREA has specialized in federating such industrial businesses.
AUREA pursues two strategies, external growth by acquisitions and an internal industrial development. The group defines itself as an "opportunistic industrialist" as it searches out niches where AUREA can be a significant actor by industrializing the recycling processes and make them profitable. AUREA gives them access to financing and can support their growth and development.